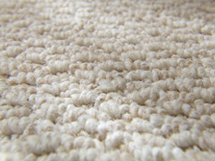 Here's a paraphrase of what most warranties say about Professional cleaning:
"Regular maintenance is necessary to keep the warranty on your carpet valid. Over time, normal use will cause a change in every carpet's appearance. Professional extraction, either by itself or in conjunction with cleaning, is required to maintain your warranty. A trained professional must be used to refresh the texture and rejuvenate the fibers in your carpet. Please save your receipts for proof of maintenance should a warranty claim arise."
Of course, a routine of vacuuming and dealing with spills is necessary. But why do manufactures' warranties also require annual deep cleaning by a professional carpet cleaner?
It's to prevent loss of texture and permanent soiling. If left without deep cleaning for too long, all carpets will suffer from these two problems.
Permanent soiling is the build-up of dirt particles and other similar materials that attach themselves to your carpet fibers and settle. Despite regular vacuuming, this dirt accumulates within the carpet pile over time and dulls its appearance. It takes deep extraction cleaning with professional equipment and high quality cleaning solutions to get it out. An important aspect of professional carpet cleaning is that it leaves no residue and if done annually will keep your carpets looking very close to new.
Foot traffic also causes damage by pushing dirt deeper and changing the texture of the carpet. Hot water extraction refreshes the texture of the carpet by "resetting" the twist of the fiber. Warranties recommend hot water extraction performed by a trained carpet care professional at least every 1 to 2 years.
Modern carpets are made mostly from yarns of nylon, polyester, and polypropylene. Professional carpet cleaning calls for a complete understanding of fibers and fabric types, carpet construction and installation techniques, soil types and depth of soiling, carpet location and "traffic" patterns, the use of professional cleaning equipment and correct application of any pre-treatment, cleaning, rinsing, and post treatment solutions.
Professional cleaners are specially trained and take advanced certification classes in carpet and upholstery cleaning technology, repair, and reinstallation issues, coloring, odor control, water and fire damage restoration, spot and stain removal, and more. Royal Carpet Cleaning stays current on health and safety issues, governmental regulations and compliances issues, and good business practices.
We are skilled professionals who have been thoroughly trained on fiber identification and proper carpet and upholstery cleaning procedures. We use the best equipment and green cleaning products materials. We are always pleased to explain our cleaning methods and how we charge for them.