Successful Removal of Dog, Cat, & Other Pet Urine Stains & Odor Starts with Our Team of Experts
Pets are very lovable companions, but certain habits of theirs can really try your patience. One of the main problems many pet owners face is handling pet urine staining.
Even though you may have trained your pets, there are bound to be instances when they will urinate inside the house on carpets or furniture.
Pet urine has quite a powerful odor which will linger through your home and leave stains on your costly carpets, rugs and upholstery.
How Do I Remove Fresh Pet Urine Stains?
An effective approach to any form of stain removal is to attend to it immediately. Fresh pet urine is easier to remove then the one which has dried.
Do not try to wipe the urine in any way as you will only end up spreading it on the carpet. If your carpet has padding then urine will work its way down into the padding if you don't attend to it right away.
The best way to thoroughly remove the urine even from the deeper layer, is to work up a system where you are able to wick the urine from the carpet.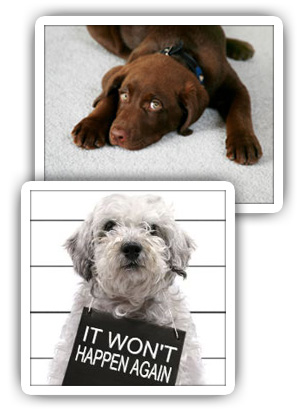 For this you will need a few highly absorbent paper towels and heavy weights.
Place the towel over the stained area and lay a flat board over top. On this board place some weights and do not disturb the arrangement for ten minutes.
After that, removed the soaked towel and repeat the procedure, until all the urine is effectively wicked off.
How Do I Remove Pet Urine That Has Dried?
Although there are various products available in the market for removing dried urine, they might cause damage to your carpet if handled by someone without experience.
The main danger lies in the chemicals used in the cleaning agent and how they may react with your carpet material. It is not only wool, but other synthetic materials too that can react with the cleaning agent.
The second danger is to the color of your carpet as certain chemicals can remove the original color. The only way to be sure the carpet gets thoroughly cleaned without problems is with professional carpet and upholstery cleaning.
Professional cleaning services will:
Have extensive experience in the removal of pet stains and odor
Apply the right cleaning and spot removal products
Use professional grade cleaning equipment
Possess the ability to neutralize the bacteria that causes odor from pet urine stains
Leave your home smelling clean and spot free
When The Stain Is Gone Will Their Still Be An Odor?
If the stain has been removed properly, the odor is also eliminated.
As mentioned before, pet urine has a strong odor and can persist in the carpet for a long time. In such situations use of steam cleaning or enzyme cleaners have proven to be effective.
These enzymes have dormant bacteria in them which become active and will break down the urine into food which they digest. When all the urine is consumed in this way, the bacteria will die leaving the carpet clean and fresh smelling.
Call Now To Get 20% Off!
By visiting our website today, you qualify for an Internet-Only special of 20% off any cleaning. Plus, if you're not 100% happy & over the moon with our cleaning, it's free – guaranteed!
You can arrange a carpet cleaning on the day and time when it's most convenient for your schedule. Give us a call at 4165081617 to claim your 20% discount now!