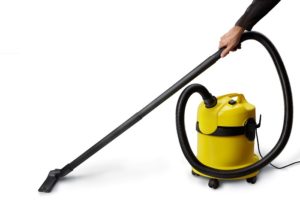 It's important to make sure your home is clean, not just for cleanliness itself, but to help your furniture, carpeting, and other floor surfaces last as long as possible. Under the normal wear and tear of daily life in any house, these particular items will wear out. They will collect more dirt, it will be subject to stains and other trauma, and when you want to keep everything looking its best, it might be difficult with a variety of different floor surfaces.
You may have a gorgeous hardwood floor in the hallway, dining room, and maybe even one or two bedrooms, but wall-to-wall carpeting in some of the other rooms. In your bathroom you might have ceramic tile and in the kitchen you could have marble or even linoleum tile.
How can you keep all of these different floor surfaces looking their best? Well, here are a few tips that can help.
Tip #1: Vacuum regularly.
A high quality residential vacuum cleaner can be ideal for not just carpets, but Berber rugs, hardwood floor surfaces, and more.
The sooner you get up light dust and other dirt, even from hardwood floors, the less likely scratching, etching, and pitting will occur.
Tip #2: Don't reuse dirty water.
When you clean the bathroom floor, for example, you might use a mop and bucket. That's okay, but it's best to use a floor cleaning machine, even a residential one, to reduce bacteria spread and other issues.
If you do use a mop and bucket, which is the most common thing for residential uses, don't reuse it in any other part of the house. This goes for every room. Even if you mop the hallway, change the water before you clean the kitchen, dining room, or other floor surface.
Tip #3: Beat out your area rugs.
Periodically it's a good idea to take your area rugs up, drape them over a deck or some other surface outside, and pound them. By pounding them, you're removing a lot of the dust and dirt that can accumulate, especially down toward the bottom of the surface.
Tip #4: Hire a professional cleaning service.
An experienced carpet cleaning company, for example, should have a great deal of experience with a variety of floor surfaces. Even though you do regular cleaning, it's a good idea to have all of your floor surfaces professionally cleaned at least once a year.