Why Upholstery Cleaning Should Be a Part of Your Regular Cleaning Routine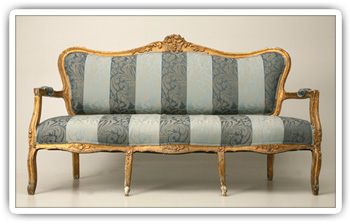 Upholstered furniture adds style to your décor and lends a warm homely feeling, but they also attract a lot of dust, dirt and other allergens and need to be cleaned often. Dust settles on furnishings and with constant use it's pushed deep into the fabric as well as the cushioning material underneath. This accumulation reduces the quality of air in the room and can lead to dust allergies. It also makes the furniture look dull and dirty, which spoils the aesthetics of a room.
Isn't Regularly Vacuuming Enough?
Although upholstery does not attract as much dirt as a carpet or rug, it does require regular vacuuming and cleaning Vacuuming can be done once a week or as per your household requirements. On a positive note, if your home or business is air conditioned there is lesser chances of dust settling and upholstery cleaning can be done at a lesser frequency. In open areas and living rooms, upholstery will need to be cleaned more often, especially if there are pets and children in the house. Regular vacuuming will catch the particles that rest on and in some cases just below the surface but deep cleaning is ultimately a necessity. Professional cleaning equipment is powerful and will reach places the average household vacuum cannot.
How Will Professional Upholstery Cleaning Benefit Us?
Although you might do a regular vacuuming, dust, dirt and other organic materials tends to build up over time within the upholstered furniture and can be only removed by professional grade, deep cleaning methods. These particles become air borne every time the furniture is used and are now in the air for you to breathe in. Dust and pet dander can cause respiratory problems like allergies and be a regular concern to those with chronic lung conditions. Upholstery cleaning ensures healthy living space at your home or office and long life of your furnishings.
Our careful cleaning and handling of your upholstery offers:
A free assessment of your specific upholstery cleaning needs
Safe removal of stains and odors without damaging the fabric
Gently clean folds and crevices
Thorough removal of dirt, dust and other allergens
Application of protective stain guard
100% Satisfaction Guaranteed
My Furniture Came With a Protective Coating, Why Does It Stain?
Protective coatings on furniture fresh from the factory is doesn't last forever. These coatings only last so long and the upholstery will need to be re-coated. Apart from dust, upholstery is subjected to body sweat and the oiliness in our skins. This will cause stains to appear over time and vacuuming is not going to remove them. Also there is always a chance of spilling something on the upholstery which will also cause set-in stains. Removing stains yourself is possible but the tricky part does understand which remover is not going to cause any permanent damage to your upholstery material. Our highly qualified technicians can choose the appropriate cleaning methods for your specific upholsteries.
With our cleaning experts you don't have to worry about the safety of your furnishings as we are well-versed and experienced in handling all types of fabrics. With a professional service you are assured of thorough upholstery cleaning and can also be at peace about the safety of your furnishings.