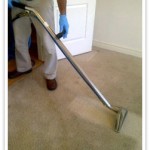 When you forget the big, nationwide companies and choose a local carpet cleaning service, the difference will shock you. A company with a proud history of supporting the local community with their services is often the better choice for businesses and homeowners alike for one simple reason: they care more about you.
With local carpet cleaning companies, you get personalized service because your business is how they thrive.
Larger companies are less likely to go the extra mile, especially for smaller jobs. They will likely do decent work but they won't do anything extra. A smaller, local company will work harder to make sure you are pleased with every aspect of their service. They not only want you to be satisfied, they want you to recommend them to your neighbors and friends.
Some people believe smaller carpet cleaning companies will not have the same or right equipment to handle the job as well as a large corporation. This is rarely the case. Royal Interior Cleaning has state of the art cleaning equipment and can handle any size job, any time of the year. And we are able to support our local community as we do our business.
Another benefit you will notice right away when comparing large and small companies is the value. Large companies tend to have higher prices so they can cover more area whereas a local company will offer better value to you keep coming back. Plus, if you use a local carpet cleaning service, you can feel confident that you are helping the community.
The Greater Toronto Area is a great place to live in and we are very proud to service you and your neighbors today as we have done since 1960. So the next time you're thinking about the best carpet cleaning service, remember that local is always best.
Royal Interior Cleaning is the leading carpet cleaning company in the Greater Toronto Area. We offer a wide range of services and specialize in expert carpet cleaning. Our carpet cleaning service will leave your carpets looking like new again. Find out more about our cleaning services on our website or call us today at 1-877-481-1393. You can also use the convenient quote form on our site for a free, no obligation estimate.