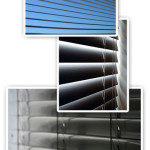 Most homes have blinds in at least one room and offices generally have them on every window. No matter what style of blind you have, common problems like cord twisting, damaged clips, broken strings, and bend slats affect them all.
Windows are necessary because they help with insulation, protecting your privacy, and offer light control. In an office or your home, privacy and light control are vital because they protect you and your furniture and rugs from fading. They are also helpful in making your home more energy efficient – a nice side benefit.
Blinds are available in a wide array of colors and materials. They come with a set of maintenance guidelines that should be followed to extend their life. Cleaning and/or vacuuming once each week is recommended for all types of blinds. When damage occurs, it can be tricky to fix it yourself, below are some tips to help you decide whether you can repair them yourself or if you need professional help.
Before jumping in and dismantling your blinds, look through the manual. Understanding how they are pieced together as well as how they work will make repairing them much easier. If you need new parts, it is best to get them from the original manufacturer to be sure they will fit properly.
With vertical blinds, a single disconnected slat causes the rest to slide in a non-uniform manner. To repair it you need to replace the broken or disconnected slat. Step by step instructions will come with your new slat – it needs to be connected to the wire and slider.
When your blind cords become twisted it is difficult (and sometime impossible) to raise or lower them evenly. This makes them look shoddy from inside and out. Try pulling each string evenly at the same time to straighten them out. If that does not work, it is best to hire a professional.
Another common problem you may face when it comes to vertical blinds is damage to the blind clip. There is no repair that can be done to the clip; you need to replace it with a new one. Make sure it is oriented in the right direction when you install it. Once it is in properly, your blinds should slide smoothly.
When a string breaks inside your blinds, you will have trouble rotating them. As more break over time, rotation will become impossible. If you have only one blind that has this issue, it's best to simply replace it. If you have multiple blinds like this, getting them restrung might be more cost effective than replacing all of them.
That is a brief run-through of common problems. Some are fairly easy to fix on your own, but others are more challenging. If you have blinds in need of repair, call Royal Interior Cleaning at 1-877-353-9808.