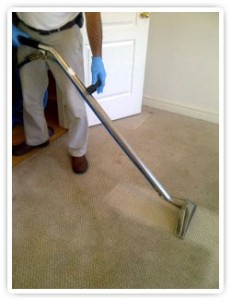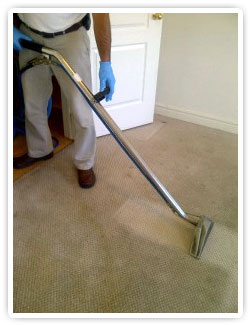 As with any cleaning method, there are advantages and disadvantages to using hot water extraction to clean your carpets. Hot water extraction is still the only method that cleans deep into the fibers and sanitizes as it cleans.
This method is by far the most recommended and used by professional cleaning services. It is used for cleaning carpets, area rugs, furniture, and upholstery. It is safe for all of these surfaces as well as people and pets due to the low amount of chemicals used in the process. It is very effective in removing dust, dirt, and other debris lodged in the carpet fibers. Royal Interior Cleaning uses this hot water extraction to offer safe, effective, and environmentally friendly carpet cleaning.
HWE works by forcing hot water mixed with cleaning solution into the fibers of the carpet and then extracting it back out. The HWE machine propels the hot water and solution mix deep into the carpet fibers at high pressure to penetrate and loosen the debris embedded in the fibers. High-powered suction on the applicator immediately pulls out the hot water solution along with all the dust and debris from the carpet. The temperature of the water not only helps to dislodge dirt, dust, and stains, but it also sanitizes the carpeting as it cleans.
Apart from being safe for your carpets, your family, and your pets there are numerous other advantages to this cleaning method. The solution used with hot water extraction is not as harsh as chemical cleaners, making it safe for people and pets to walk on the carpet sooner with less of a chance of picking up chemicals that can cause irritation or sickness. You also don't have to worry about residue being left behind.
With a traditional carpet shampooer you usually have to wait 12 to 24 hours for the carpets to be dry. Another advantage of HWE is that the drying time is much faster. Carpets cleaned with the hot water extraction method can be used within hours of cleaning. The final advantage of this method is that it sanitizes as well as cleans, not all other methods do. Contact Royal Interior Cleaning to learn more about how hot water extraction cleaning will benefit you and your home.