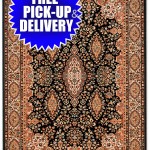 Area rugs serve many purposes – from adding style to your home to keeping your feet warm during the winter. It's no wonder why many Toronto residents choose to add area rugs to their interior décor.
However, these rugs tend to be delicate and require careful cleaning. Toronto's cold, dry winters and our humid summers are perilous to your rug's looks and condition.
Royal Interior Cleaning specializes in cleaning, preserving, and, when necessary, restoring these fine floor or wall textiles. Rug cleaning involves carefully selecting the right cleaning solutions and procedures that are compatible with each particular rug material. Our trained professionals will take into account the material of your rug and determine the ideal procedure for cleaning it.
We offer free pick up of your Oriental, Persian, Chinese, Turkish, Moroccan, or other rugs, whether hand-knitted or machine-made, museum-grade silks or antique shags – no matter what size. They will be transported for cleaning and any repairs or restoration that is needed will be completed at our specialty shop, located right here in Toronto.
We have all the professional equipment needed to thoroughly clean your high-value rugs with no risk of shrinkage or shape change, fading, or color-run. We have worked extensively with Persian and Oriental rugs to bring them almost back to their former elegance and glory. Highly skilled professional craftspeople carry out any repairs you request, restoring your textile art to its original condition.
After the cleaning and repairs are complete we will arrange to deliver your rug back to you. You never need to leave your home or worry about transporting anything. Royal Interior does all the work for you. Keep your rugs, carpet, draperies, and upholstery looking their best with our expert cleaning and repair treatments. We handle both residential and wholesale fabrics. With over 50 years of experience, as one of the leading Toronto Carpet Cleaning Companies, our methods of cleaning have proven both fast and efficient.
You won't find a better Toronto carpet cleaning company anywhere in the Greater Toronto Area. Royal's friendly and professional staff will handle your upholstery, carpet, or rug with the utmost care and consideration. We use natural cleaning solutions that are environmentally friendly and safe for your family and pets. You don't pay a penny extra when we pick-up and deliver your rugs for cleaning no matter which part of the GTA you live in.