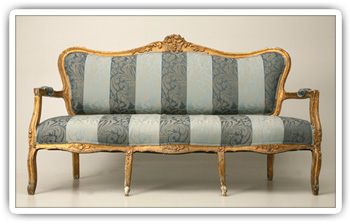 You just bought furniture for the living room, so how do you maintain its fresh new appearance? To keep your furniture clean, it's necessary to conduct routine maintenance, including periodic cleaning by a certified technician every one to two years.
Furniture and fabric manufacturers recommend that consumers not wait until severe soiling occurs before cleaning because the greater the soiling, the less the likelihood of restoring the fabric's original color, appearance and texture. Regular cleaning by a trained, certified professional can help restore your upholstery's appearance, extend its life, and keeping it looking "like new." In addition, certified professionals can offer simple suggestions to maintain a clean and healthful environment. These tips often include:
Reduce as much as possible the level of airborne pollutants in you home. Use a range hood over your cooker – greasy cooking fumes will settle in the fabric of your furniture. Prohibit smoking in the house – cigarette smoke will discolour upholstery fabric and give it an unpleasant odour.
Keep your furniture out of direct sunlight. This will prevent fading and prolong the life of the fabric.
Consider placing covers over armrests and the tops of cushions to protect these areas from hair and skin oils.
Turn loose cushions regularly to spread wear and tear evenly over the piece of furniture.
If you remove loose dirt and debris on a regular basis it has less chance to work its way into the fibres of your fabric upholstery. A sticky lint roller is great for picking up hair, crumbs and dust. Using a lint roller has the advantage of lifting the nap of the fabric, rather than flattening it and pushing dirt deeper into the weave as a brush might.
Vacuum your fabric upholstery once a week using the furniture nozzle and the crevice attachment. Regular vacuuming removes dust and prevents it building up within fabric fibers.
Unknown to most commercial end users is the fact that commercial upholstery, unlike residential, experiences a lot more daily soiling, wear and tear. Commercial upholstery should be cleaned annually by a professional cleaning service that knows how to remove maximum soil, perhaps semi-annually in heavy use situations. The increased use life of the upholstery and the savings in productivity will pay for the cost of cleaning.