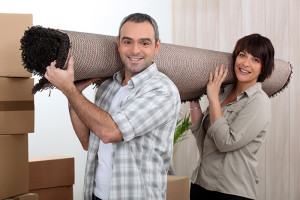 If the carpets in your home are relatively old, dirty, dingy, and look as though they're in poor condition, you may be trying to determine whether it's worth having them professionally cleaned or if it's time to replace them.
Depending on the age of your carpets, they may very well need to be replaced. There are a few telltale signs that it's time to consider replacing your carpeting. If you still are not sure, then contact a carpet cleaning company to come out and view them. They will be able to assess the quality and condition of the carpet and give you an honest assessment about what you can do.
If the carpet has worn down in places where people tend to walk, leaving a lower portion of the pile, then cleaning won't return this to its original plushness. If there is no more cushion when you step on the carpeting (in other words, when you step foot on it, you may feel as though you're walking on a hardwood floor), then the foam coating under the carpeting could be broken down and the carpeting will also be pressed down too much.
If you find that no matter how much you vacuum that you can't get the carpet clean, then it could be that the foam padding underneath has broken down to the point of turning to dust. This is a good sign that it's time to replace the carpeting.
However, if you still feel plushness under your feet, don't notice worn out spots, and the carpeting just looks dirty and old, a professional cleaning service can come in and help return them to almost new condition. There is no guarantee about how 'like new' any aged carpeting will look, though. If your carpeting is at least 10 years old, regardless of wear and tear and usage, it's time to consider replacing it.