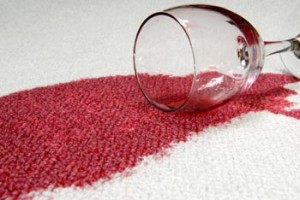 When purchasing new carpeting, you're going to be met with a number of options. One of those options is to add a protective coating to it. The most commonly known name is Scotchguard, though there are several other fluorochemicals that could be used on carpeting.
The main focus of these chemicals is to reduce the 'surface tension' of the carpeting. By doing so, this can help reduce the absorbency of the carpet fibers. As a result, when you spill something on your protected carpeting, it may be easier to clean up.
It depends on a number of factors. The main aspect that you should focus on when purchasing carpeting is to ensure that it has a stain resistor. Scotchguard does not resist stains. Scotchguard will help to reduce the absorbency of that carpeting.
If the spill is significant, you will find that even though you can get it up with a paper towel, some light dabbing, and some gentle soap and cleanser, the liquid (if it's liquid) can still make its way down deeper into the carpet fibers.
When the spill reaches deeper into the carpet fibers, it will be more difficult to get up with simple dabbing and a dry towel. Even your residential vacuum or a shop vac isn't going to be very effective at removing the stain.
Scotchguard and similar protections for carpeting are certainly an asset to have when you purchase new carpets, but it's the not a failsafe protection against accidental spills and stains.
If you experience a spill on your new or relatively new carpets, then you should contact a professional carpet cleaning company. They can come to your Toronto home and conduct a spot cleaning with powerful machines that will reach deep into the carpet, to the base and foam underneath, to help ensure that nothing is left behind.
Don't take chances with regard to spills; address major spills as soon as possible, regardless of stain protection or Scotchguard additives.