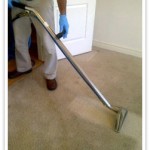 Installing new carpet can be a dramatic improvement for your home, but not one you want to do every few years, as it is a costly investment. Instead, it's best to do as much as you can to keep your carpet looking new for years to come. Here are some simple steps you can take to breathe new life into old carpeting as well as maintain that new carpet look.
No matter what type of carpet you have, basic care is a must. With the right care, average carpeting can last up to twenty years and high-end carpeting can last even longer.
Regular vacuuming is the most important and most basic form of carpet care. It is best to vacuum carpet that experiences high traffic every day or every other day at the least. Areas with low traffic can be done once or twice a week. The less you vacuum, the more dirt particles work their way into the carpet fibers. With every step they are pushed further in and become harder to remove. Over time you will notice these areas look dingy, discolored, and flat.
With a good quality vacuum, you can prevent most of these issues. You don't need to spend a lot of money on a vacuum, but don't buy the cheapest one either. Spending the money for a quality vacuum will save you money in the long run.
If your vacuum uses bags, be sure to change them regularly. If it doesn't, be sure to empty the dirt cups regularly. You also need to change or clean the filter on a regular basis. Doing this will not only maintain the proper suction of the machine but it will also extend the life of your vacuum.
Your carpet also needs to be professionally cleaned at least once per year to keep it looking its best. It is best to have the carpets steam cleaned every six months but the minimum should be once every year. Royal Interior Cleaning offers steam cleaning and hot water extraction services.
Hot water extraction or steam carpet cleaning:
Shampoos & Foams
Absorbent dry compound
Bonnet/pad cleaning
Pet stain and odor removal
Sanitizing and disinfecting
Spot and stain removal
Water damage and restorations
We are located in Thornhill, Ontario and serve the entire Greater Toronto Area. Give us a call and we'll give you a free quote. Our services are guaranteed and we use eco and pet friendly cleaning products to get your home clean the safe way.