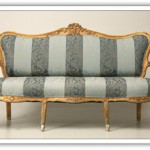 You trust Royal Interior Cleaning to clean your carpets; why not trust us to clean your furniture and upholstery as well? We understand that your furniture may be one of the most significant investments in your home. With that in mind, you can count on our expertise to get the job done right. Our trained technicians demonstrate furniture cleaning know-how with the same highly-effective green cleaning methods we've been using on carpet for years.
As with carpeting, we begin the process with an on-site analysis of your furniture to determine the proper cleaning technique. Then we use our specially formulated furniture cleaning agents to powerfully but safely clean your furniture. Our experts ensure that everything is done right, down to the last detail.
The results speak for themselves: cleaner, longer lasting, and improved air quality. You'll be rid of the dirt, dust, and other pollutants that collect in the cracks and crevices of your upholstered and leather furniture. And you can take comfort in the fact that better care lengthens the life of your investment.
Royal Interior Cleaning can also deodorize and protect your furniture after every cleaning, just as we do with our carpet cleaning services. Our experts spray the protectant on your furniture to create an invisible barrier around the fibers. This improves resistance to dry soil, water-based stains, and daily wear and tear. We can also apply a deodorizer that neutralizes odors by eliminating them at their source. Your furniture will have a fresh, clean scent.
Even hardwearing leather furniture needs cleaning. It is exposed to the same dirt and dust as your upholstered furniture. And leather faces the additional challenge of losing moisture and softness over time. Typical leather cleaners and conditioners provide immediate relief, but they can also cause long-term damage. Proper maintenance demands an experienced professional. We use safe, professional leather cleaners, moisturizers, and protectors to rejuvenate your leather furniture without any harmful side effects.
Don't settle for dingy looking furniture and don't rush out to buy something new. Instead, let our professional deep clean rejuvenate your favorite chair or sofa. From couch cleaning to sofa cleaning to all the upholstered and leather furniture in your home, get a clean you can trust from people who will treat you like family.