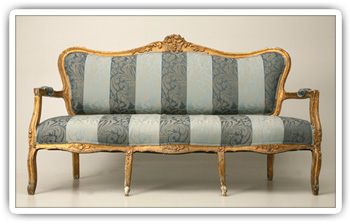 From time to time everyone notices a spot on the upholstered sofa and takes care of it with common household upholstery cleaner. It's quick, it's easy and most of the time, it's pretty effective to cover up small or light stains on your furniture.
But that common cleaner will not work on large, deep, or old stains. And unless you keep your upholstered furniture wrapped in plastic household dust and debris will eventually leave marks. When you start to notice spots on unused or freshly cleaned upholstery it may be time to invest in a bit more than a cloth and spray bottle.
Even if you have no visible stains on your furniture that does not mean it is clean. Upholstery, like many things in your home, harbors bacteria that, if not removed, can potentially affect your health. You can't see it but it is always there. This bacteria can cause sickness over time; so the sooner you invest in upholstery cleaning, the better off you will be.
Every time you sit on a piece of furniture you are puffing up bacteria, allergens, and particulates into the air. Upholstery Cleaning is proven to improve the air quality in your home. Mold, dust, mildew, and other allergens can live in your upholstery, going unnoticed by the human eye. Regular, professional furniture cleaning can prevent unnecessary pollutants from spreading through the air and into your body.
At Royal Interior Cleaning we understand the importance keeping your home and upholstery clean. We use the newest technology and environmentally safe products to ensure you're home is clean and healthy.
RIC professional technicians use equipment that can clean virtually every type of upholstery, including Jacquard, velvet, and leather. Before beginning any upholstery cleaning process, our team of technicians will inspect each piece of furniture to create a custom-cleaning plan. Once a proper furniture cleaning method is determined based on the make and material, our trained specialists get to work removing stains, restoring color and reviving your upholstery.
At Royal Interior Cleaning, our dedicated technicians are ready to offer the best services available to restore and revive your upholstery. We service the City of Toronto, York, Peel, and Durham Region in the Greater Toronto Area.