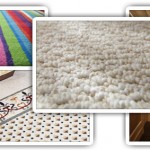 Many carpet cleaners, both household and commercial grade, contain dangerous chemicals that stay in your carpet after they have been cleaned and dried. These chemicals are picked up by pets, babies and toddlers, and just about anything or anyone else that touches the carpeting. As we walk across a carpet, we release dust containing these that disperses into the air we breathe.
Whether you're cleaning your own carpeting or hiring professionals to do the job, you must consider what type of material the carpet is made of and use a cleaner that won't damage it nor introduce unwanted chemicals into your home. This can be difficult especially when using a professional service.
We know that dirt, dust, and debris collect in carpets and regular vacuuming helps keep it in check but every carpet needs to be deeply cleaned from time to time. How and how often you use your carpet will determine how frequently you need to clean them. If they undergo heavy use everyday, they need be cleaned more often. Carpets that undergo little use still need to be cleaned periodically as dust travels and settles throughout your home.
No matter how often you need to clean your carpets, you should always opt for eco-friendly cleaning products. If you're doing your carpets yourself, you can make your own cleaner with vinegar and hot water. Mix roughly one part vinegar to ten parts water and you will have a solution that can clean and deodorize. You can even rent a commercial cleaning machine to clean with the vinegar mixture.
If you're simply removing a stain or spot, you can use baking soda, vinegar, and water. Just put the baking soda on the spot and pour some vinegar on the baking soda. The spot will bubble and that means it is working to remove the spot. After the bubbling has stopped you can take water and flush the spot. Then soak up as much water as you can with a clean towel and let the spot dry completely.
If you're working to get a smell out of your carpeting, use equal amounts of borax and corn meal. Mix them with roughly half as much baking soda. Then, sprinkle the mixture over the area emitting the odor and rub it into the carpet. Let that sit overnight and use a vacuum to lift it out the next day.
These are quick tips for do-it-yourself cleaning that are perfect for small areas and minor issues. If you have a lot of carpeting, major stains or odors, or simply don't want to do it yourself call Royal Interior Cleaning. We only use eco-friendly cleaning solutions and have a 100% satisfaction guarantee. We care about the health of your family and pets just as much as we care about the cleanliness of your carpets. We service the following areas:
• Scarborough
• North York
• Etobicoke
• York
• Toronto
• Markham
• Richmond Hill
• Vaughan
• King
• Aurora
• Whitchurch-Stoufville
• Mississauga
• Brampton
• Pickering
• Ajax
• Uxbridge