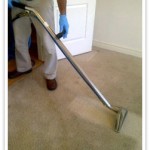 When your carpets still look dirty or dull after vacuuming, it's time for a professional carpet cleaning. You can rent a steam cleaner and do it yourself but using a professional service will yield a deeper clean, faster drying time, and the safest methods for your carpeting and your family.
A large number of Canadian homes contain carpet dust mite allergen levels that are unhealthy. Constant exposure to these poses a risk for the development of allergies and asthma. Royal Interior Carpet Cleaning services the Newmarket and surrounding areas using our time-tested techniques to breath new life into your carpets. Our trained professionals, along with our environmentally friendly solutions, deodorize and sanitize your carpets, leaving them free of pet stains, odors, allergens, and residues.
Royal Interior Cleaning can help safely remove worked in spots and stains, thus saving you the trouble of finding for the right products and doing the manual labor involved. Once in your home, our professionals will carefully work to eliminate spots and stains from your carpets and upholstery.
Whether we're cleaning your entire room or focusing on a stained area, this is our process:
We assess the area – identifying any trouble spots. From this we determine what type of cleaning solution is best. We apply the chosen solution on a small, hidden test area to make sure it will not damage the carpet. If no discoloration occurs we use the solution to clean your carpets and/or remove stains.
Once the stains are removed and the carpets cleaned we will apply a stain guard to help protect the surface and make it easier to remove any future stains. Stain Shield protection coats the fibers, helping prevent stains from penetrating deep into the pile.
Here are the carpet services we offer:
– Hot water extraction or steam carpet cleaning
– Shampoos & Foams
– Absorbent dry compound
– Bonnet/pad cleaning
– Pet stain and odor removal
– Sanitizing and disinfecting
– Spot and stain removal
– Water damage and restorations
Vacuuming regularly is good but nothing beats a deep cleaning that gets down to the base of the fibers to remove grit, sand, dirt, allergens, and more while also deodorizing your carpet. Call Royal Interior Cleaning to schedule your cleaning today.