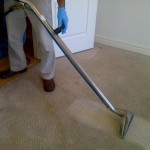 You may not know it, but there are a number of distinct advantages to having your carpets professionally cleaned during the winter. Not only is scheduling easier but you'll have a healthier indoor environment when you need it most.
As the snow starts to fall, icy moisture will be tracked into the house in one form or another. This moisture sinks deep into your carpets and mingles with allergens and pollutants that have built up. This can cause mold and mildew growth as well as stain the carpets. There are also chemicals tracked in from salt and ice melt that can damage carpeting. Getting a cleaning done during the middle of winter is a great way to protect your carpets from this damage.
An early winter cleaning is the perfect way to keep your family healthier. Ventilation is greatly decreased during the cold months because you keep your house sealed up tight for warmth. All the allergens and pollutants already in your home and any more than are brought in get sealed up with you. This can lead to more illnesses for you and your family. A professional cleaning will remove allergens, pollutants, and dirt so your indoor environment will be healthy.
You will also have your pick of appointments when scheduling a winter cleaning. A lot of people like to wait until spring to clean their home and as a result, scheduling can be tricky. You can also take advantage of discounts that won't be available when spring rolls around.
Finally, your carpets will dry faster during the colder months. This surprises many people since warmth is generally associated with faster drying. Humidity rises as the temperature rises and humidity slows the drying process down considerably. During the winter, your carpets should be dry in just a few hours whereas it can take longer than a day when the humidity is high.
If you are planning to include your carpets as part of your Spring Cleaning this year, consider starting a little early by getting the carpets done now. It'll give you a jumpstart on the season and a healthier winter for you and your family.